Sex Games in Winnipeg, MB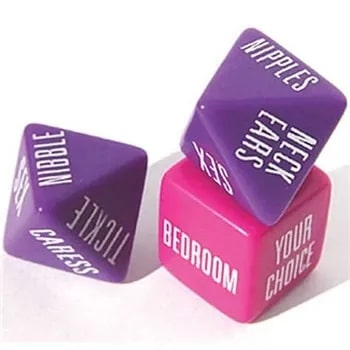 Simple and playful, our sexy Spicy Dice is one of our best sellers! Whether you want to keep things entertaining with your partner or break the ice with a new relationship, these dice will lead you to unexpected places! Just throw the dice, and they will tell you what you to do and where you should do it. Their small size and easy- to-understand rules make them the perfect game to take on romantic getaways or pretty much anywhere you want to use them.
Monogamy: A Hot Affair with Your Partner Game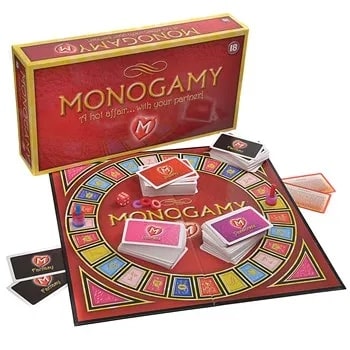 Like its name describes, Monogamy is a two-player game. It will slowly get you to try new things you would have never expected and build the anticipation with every roll. Just throw the dice and advance your piece on the game board. Each square will ask you to perform steamy acts like taking off your clothes, taking a drink, or giving seductive massages…
The further the game advances, the hotter the actions become, making it a great ice breaker for expressing hidden desires. Each turn will increase the level of intimacy. You will slowly advance from evocative intimacy cards to playful, steamy cards until you finally reach the hottest, most passionate cards. At the end, the winner will get to pick a fantasy card. We will not reveal too much about them but trust us when we tell you this is one of the most rewarding games you will ever play!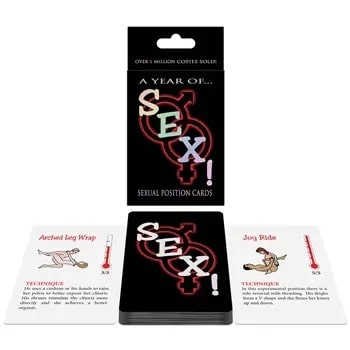 If you feel you're stuck in a rut with your partner but don't want to get into complicated games, A Year of Sex! card games are made for you! The concept is pretty simple: Each card represents a different sex position. You just have to pick a new one every day. And in case this is not enough, this pack also includes three extra games to keep you and your partner busy all year long!
Lover's libido: A lot of partners unaware each other's sexual likes and dislikes. This game is made to allow you to share them with each other in a natural and fun way. Be ready to explore each other's wildest fantasies!
Ultimate Fantasy: Sometimes changing positions just isn't enough, so this sex game will make sure you spice things up! Each card represents some of the wildest fantasies imaginable! Just pick one and make it real!
Fortune Teller: This card game will take control of your night by predicting your wild evening!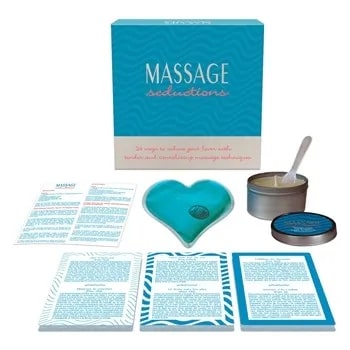 Looking to explore new horizons with your playmate? Massage oils can give you and your partner an exciting way to interact with each other physically while enjoying a more sensual pace. Most of our customers have little knowledge on how much massages can stimulate a relationship, So this game guides you through the night and helps you make the most of these electrifying moments. Imagine the feel of your partner's hands going over every sensual part of your body and giving you a deeply satisfying massage. The Massage Seductions game will help you relax and slowly build up desire. It's all about anticipation!
Domin8 Master Edition Game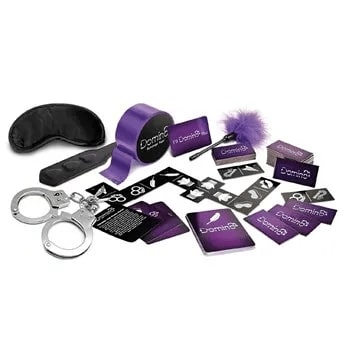 Have some domination dreams but not sure where to begin? Let Domin8 Master Edition Game guide you through your most forbidden fantasies! The 24 scenario cards will help you get in the right mood by creating the perfect scenario– Cop/Suspect, Doctor/Patient, Masseuse/Client–while the 36 Domin8 cards will tell you which action the dominant will have to perform. The possibilities are limitless, but one thing is for sure: By the end of the night, someone is going to end up handcuffed, blindfolded, or spanked under the dominants' control.
At the end of each game, the winner will pick one of the 2 Me & You Cards to determine his or her role in the next round–either dominant or dominated.
The game also contains 5 objects to help the players fulfill these kinky desires: steel handcuffs, a spanking paddle, a feather tickler, a blindfold, and bondage tape.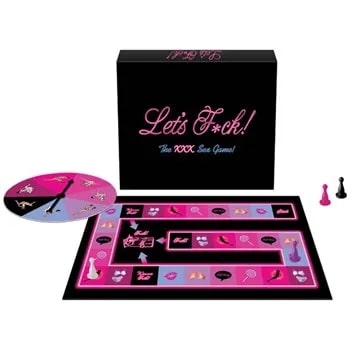 Let's F*ck XXX sex game is one of our most popular games– it is also the only one that can be played with up to four players! This game follows easy-to-understand board-game rules, so you and your friends can start playing quickly. Just pick your game pawn, spin the spinner, and get started!
The game is made to gradually build up momentum, so don't be anxious about it being too intense from the start. You and the other players will get to know each other more and more intimately before getting into the sexiest part of the game. Whether you want to play with your partner and switch up your foreplay routine or you'd like to try new adventures with more than two players, we're sure you'll love this game! Order one today and be ready to explore new boundaries!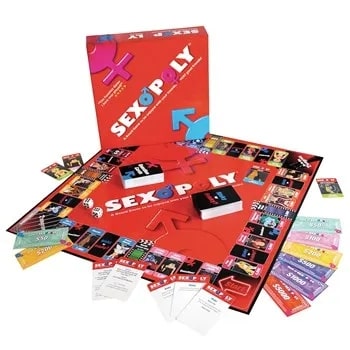 If you love the classic Monopoly game but would like to spice it up, Sexopoly is for you! Designed to be played with your partner or your very good friends, this adult version of the famous game will create fun and intimate nights! Instead of building your real estate empire, you will get to build your adult entertainment empire. But the differences go beyond the name change. Question cards will test your knowledge of sex culture, while the "Risky or Frisky" cards will get players to say and do enticing and provocative acts. Depending on what type of fun you are looking for, the game will let you decide how sexy and daring each action will be. But be warned–the sexier your performance, the more points you will get.