Add a Little Spice to Your Holiday Gifts with Your Local Adam & Eve | Winnipeg, MB
The end-of-the-year holidays are one of the best times to be with your family, but they are also one of the most intimate and cozy times of the year with your partner. They offer the perfect occasion to spice things up with an intimate gift. Adam & Eve Winnipeg have carefully selected toys and objects for you and your lover that will make your last nights of the year unforgettable! Whether you want to gift it to your lover or yourself, we've got you covered!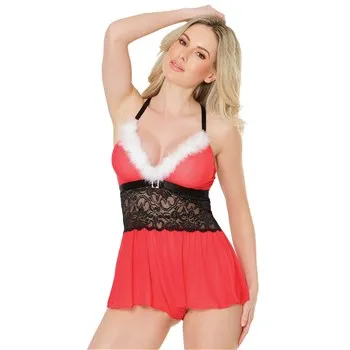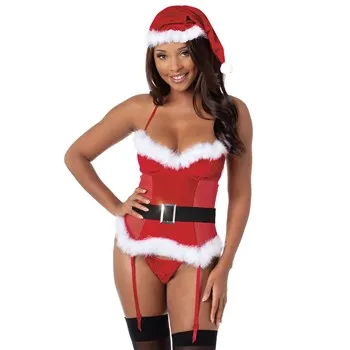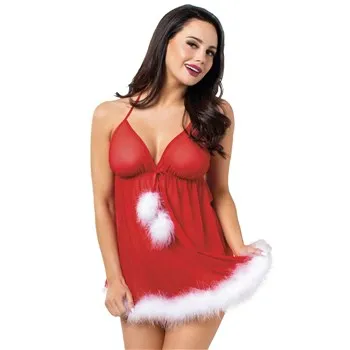 Even though it's cold outside, inside you'll be creating some heat of your own with our Naughty List Christmas lingerie! Our Holiday line of special lingerie is hot enough to melt the North Pole, so it's perfect to have a more intimate and sexy celebration with your partner! From faux-fur cups to bright, redvelvet G-strings, let your end-of-the-year spirit heat up your partner's heart. Click on the link and discover everything Adam & Eve Winnipeg selected for you and your partner!
Merry Memories Holiday Massage Candle Trio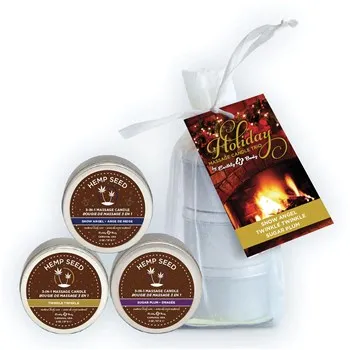 Offer some relaxing alone time away from the family to your partner during the holidays and pair it with the Holiday Massage Candle Trio! It is a thrilling way to relax your partner while interacting with each other at a slower, more arousing pace. Imagine the feel of your hands massaging every part of your partner's body,stimulating all their senses in the middle of a cold night. The Holiday Massage Candle Trio is the perfect gift, and it comes with three different scents. This holiday gift candle will give you and your partner some much-needed alone time to relax and enjoy each other.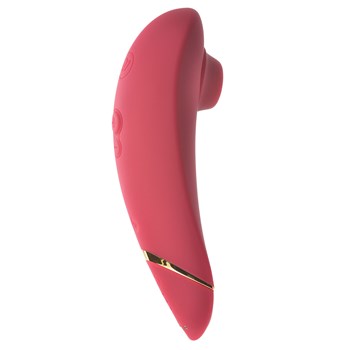 Say goodbye to the old, boring vibrators, and say hello to The Womanizer Premium, a gift she will not forget! With its autopilot feature, this vibrator creates changing vibration patterns that will give her new sensations every time. Couple it with two different silicone suction heads, and she will be able to vary pleasures all night long!Diversity is not the only thing that makes the Womanizer so great; it also uses air pressure to give her sensations she has never experienced before. Equipped with Smart Silence technology, the vibrator will turn off automatically as soon as it stops touching her skin, making it one of the most discreet toys available. She won't have to worry about getting caught by a family member! The womanizer is also waterproof, so you can use it in the shower for steamy playtime.
Waterproof
Autopilot Mode
USB Charger
12 Vibration Modes
2 Different Silicon Suction Heads
Pleasure Air Technology
Smart Silence Technology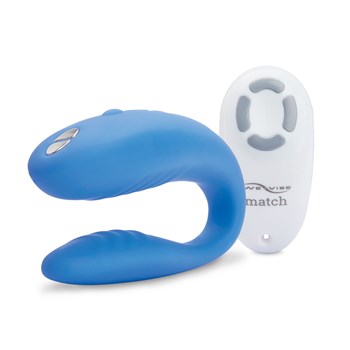 The We Vibe Match has been designed specifically for women to be used during sex. With its pulsing vibration to both the G-spot and clitoris, it is famous for allowing women to enter an intense moment of bliss. Its soft silicon material and curved shape mean this massager will fit comfortably in your most sensual places. The vibrator comes with a Bluetooth remote that will allow you or your partner to take full control of the situation. The remote allows you to select the intensity and alternate between clitoral and G-spot vibrations. Shop one tonight and be ready to close your eyes with pleasure while you enter an intense moment of euphoria!
Dual Stimulation
Adjustable
Remote Control
Waterproof
USB Plug for Charging
10 Vibration Modes
EPivot by We-Vibe Vibration Ring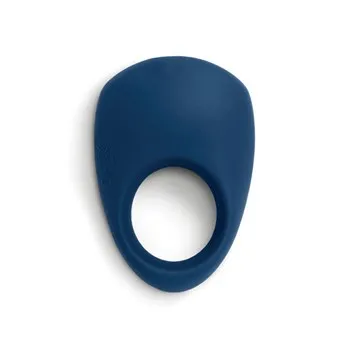 If you are looking for a different type of vibrator, we've got you covered! Designed to create longer erections and more powerful orgasms, the E Pivot will enhance every sensation you have during the act! With its stretch material, this vibrator will fit perfectly and stay in place so you can focus on pure pleasure. Forget about the more classic,cheap-feeling silicon toys!The We-Vibe E Pivot silicon is so silky smooth that it gives a luxurious feel to the toy. The E Pivot has more than 10 vibration modes, and, like the Sync Massager, it is compatible with the We-Connect App, so you and your partner can enjoy each other no matter the distance.
Made for Couples
Comfortable Material and Design
Powerful Vibrations
Smartphone We-Connect App
Remote Control
Waterproof
USB Charger
10 Vibration Modes